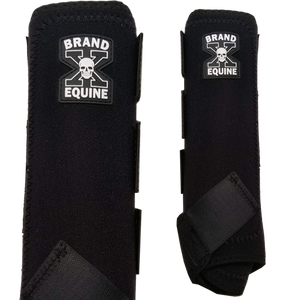 Premium Hind Sport Boots
---
Brand X Equine Premium Hind Boots
Built to the unique anatomy of the rear fetlock, our hind boots are made all of the same great materials as our Front Boots but, with a completely different "bottom line". Our Hind boots are considerably taller and bigger around than our Front Boots simply because the anatomy of the horse demands it!
The most amazing thing about our boot is the combination of the "bottom line" that is contoured to fit the distal pastern closely coupled with the thickness of the neoprene we chose.  When applied correctly, these boots almost never get dirt in the them.  The wave had to be slightly different in it to accommodate the girth of the fetlock and pastern.  If we would have simply just made a one size larger front boot taller, we would not have been able to keep the dirt out as effectively!
Hind Boot Outer Materials
Exterior of Boot
Brand X Equine uses the Highest Quality Japanese UBL Available. This UBL is the most durable on the market. It resist "fuzzing up" unlike any other boots on the market today.
The boot's straps are constructed of some of the most aggressive hook (Velcro) material, ensuring a snug, secure fit.  And, nifty pull tabs at the end of those straps for fingernails and crippled cowboys. Yes, you are welcome. You can now apply and remove the boots with gloves on and/or not break a fingernail.
Interior of Boot
The interior of BXE's Front Boots is comprised of SBR Neoprene. This neoprene is famous for it's durability and longevity!  And the same High Density EVA Foam used to protect the noggin of your favorite Pro Football Player is also used to protect your horse's leg!
The interior is lined with a soft, silky Poly knit material that will not catch or hold hair.
---
---